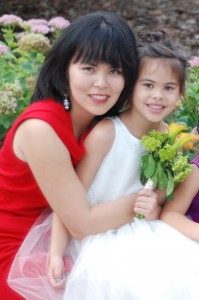 What can I tell you about myself?
I am a mother… a daughter,… a wife, a friend,… a confident,… I'm a teacher (to my kids whether I realize it or not), a role model, a mediator/problem solver, and a soccer mom/chauffeur (to my kids).
I love my kids and family. They are my motivation and inspiration.
I love jamocha almond fudge ice cream, and I have a weakness for mocha frappuchinos.
I love to travel. I love music. I love nature.
I have a collection of sunsets and sunrises from around the world. Someday when I have enough, I will make them into a book.
I love capturing emotions, making people smile, and witnessing one of the most important days of people's lives.
I have loved photography ever since I could walk. I got my first toy camera at age 3, and my first 'real' camera at age 10, and haven't looked back ever since.
I am a dreamer. I believe in miracles. I believe that you can make your dreams come true through hard work and determination.